I LOVE visiting schools and sharing my books with the students. But just as every student is different, every author visit is different, too. So much depends on the school, the students, and what they are wanting to get out of my visit. I don't have any one set way to do an author visit, but I can give you an example.
Let's say I visit SCHOOL X.
I arrive at 9am and set up a Power Point presentation in the auditorium.
At 9:30, half the school (maybe grades 2 – 4) is seated and I begin.
Most of my presentations last 40-55 minutes and I try to include the students as much as I can.
(I studied theater for years, so I'm usually pretty perky and loud.)
At 10:30, the students depart and I have a few minutes before I go into Classroom #1 to do an art project. Art projects last 35-45 minutes per group. The teachers have all the supplies ready for my visit.
I might be able to get 2 art projects in before a lunch break, at which time I often sign some books that have been ordered. (I send order forms ahead of time so my host can have the books ready for when I arrive.)
After lunch I might have another large group presentation or a few more art projects. That usually takes me to the end of the day.
Most of the author visits I do are around the Hartford, CT area, but I have been known to travel farther if it can fit in my schedule and the host school can afford travel expenses in addition to my honorarium.
And if a school is close by, they have the option of having me in for a half-day.
Feel free to send me an email at julie_c@rocketmail.com and put "Author Visit" in the subject line, and I'll send you more information.
I also offer a free 30-minute Skype Visit to schools.  These visits usually consist of me reading one of my books (I let the kids choose,) doing a collage demonstration, and then taking student questions.
Teachers have told me this is a great way to connect with students.  I've been sent images of collage projects students have made after my demo (which I LOVE) and I'm told that speaking directly with an author helps inspire their writing as well.  I love it because it means I don't have to drive anywhere.  They love it because they get to peek inside my messy studio.  (Sometimes my cat shows up.  Java is always stealing my spotlight.)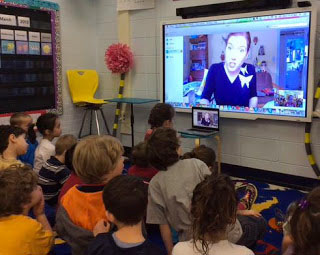 If you'd like to schedule a 30-minute Skype session, just send me an email at julie_c@rocketmail.com and put "Skype Visit" in the subject line. Let's see what we can work out!