Today I had the great pleasure of sharing MONKEY ONO with the K – 3 grades at Whiting Lane School.  I talked about story structure and read Monkey Ono, but the best part (as it often is) is when the kids took control of the story.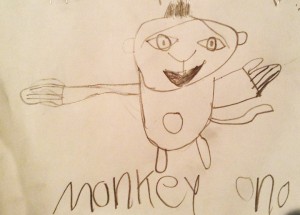 After showing the kids how to draw Monkey Ono, I provided them with a worksheet so they could plan their own Monkey Ono caper.  Their instructions were to create a three-step plan in one panel, show the plan in action in a second panel, and then show the pay off in the third panel.  The kids got to decide whether their monkey's plans were successful or not.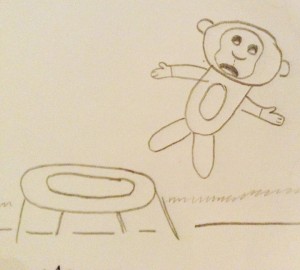 (Above) This Monkey is bouncing to the beach via trampoline.  (Below) This Monkey Ono takes a rocket to outer space!  (From his expression, I think he wanted to go to the beach.)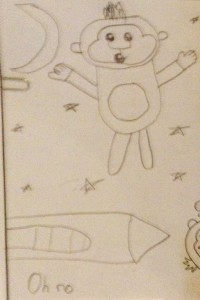 (Below) This Monkey Ono takes a ride on Telly.

I had a ton-o-fun and LUCKY ME I get to go back on Wednesday and do it all again with the fourth and fifth grades!
BIG THANKS to Lee Gluck the media specialist who was able to squeeze me in among all the end-of-year happens and to all the kids who gave their attention and enthusiasm!