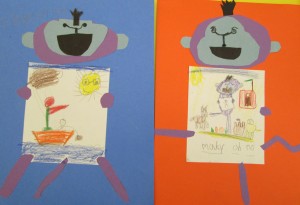 Yesterday I had a lovely visit with the first graders of Central School in Simsbury. And it was a special visit for me, because it was the very first time I did Monkey Ono collages with kids.
I can't even tell you how many ninja projects I have done over the last four years – hundreds – I have got that down. But Monkey Ono is a little trickier than Wink because Monkey Ono has more components. And more placement. Some pieces have to be glued on top. Some pieces have to be glued on bottom. I had no doubt a fifth grader could handle it – but first graders? Well, I was a little nervous.
But they did GREAT!
If you want to see more, check out my blog.
And BIG THANKS to Central School for giving me a warm welcome and sharing your enthusiasm for my new book!  I had a great time!